The Importance of Having A Website

Many small business owner think they can't benefit from a website and they are not willing to spend money on developing a website. They are wrong, in long term investment to a business, website is a must and it will enable you and your company grow faster in this internet world. Therefore, it important to have a website.
Website Working 24 Hour/Day
Your website is ready to server customers at any time and any way, 24 hour a day without any supervision on it. It will be there to server your customer with a good users experience when they need it. With today lifestyle, this is a great idea to reach your customer.
New Market Segmentation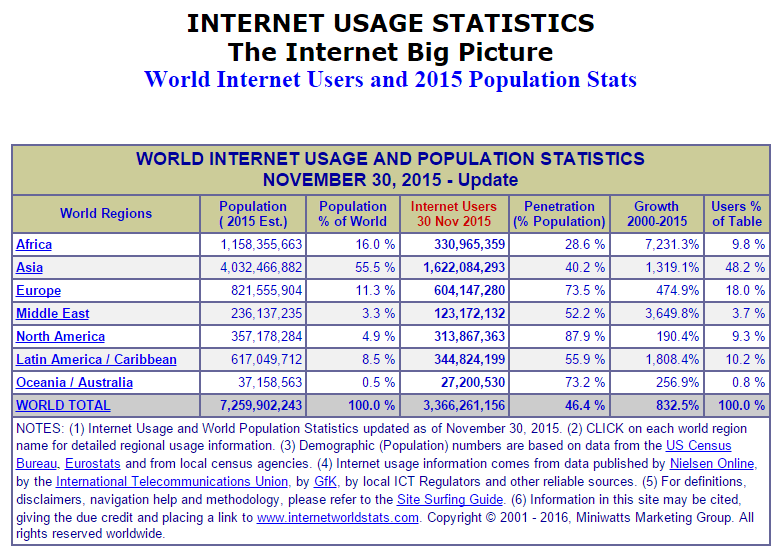 Source from Internet World Stats
Importance of having website;
In the internet world, online users are as large as 4 Billion users in the world. The internet marketing has opened up a whole new era of market that you never experience before. Your business can be showing up to new customers that need your services. As a retailer or supplier, your products are able to sell to a wider market with same effort of work load. Today, cars, luxury good, food and even house are selling online today.
Your Small Business Will Easily Get Credited
In today world, more and more users using internet and searching engine to look for products or services they need. If you are online, you will have the chance to get reached to potential customers you need, compare to those competitor that not yet online today. Being online is the effective way to promote yourself to your customers since you are really small and does not have stall for example.
Keep Your Customers Up-To-Date Info
Online website is just like a brochure or catalog. Updated online information, you get to reach your customers with the latest product you launching now, any changes or order status are easy to make changes to your website. Unlike normal brochure, when some changes happen, your old brochure is considering wasted investment.
Showcase of Your Work or Portfolio
No matter what business you are running now, a website is the best places for you to showcase your product or skill you have. For product, you are able to show your specification and some image gallery's about the product or services.
Low Investment Cost On a Website
Website is the lowest investment cost compare to an actual stall or shop to start a business. With a website, you are now able to start a virtual space to promote and sell your product.